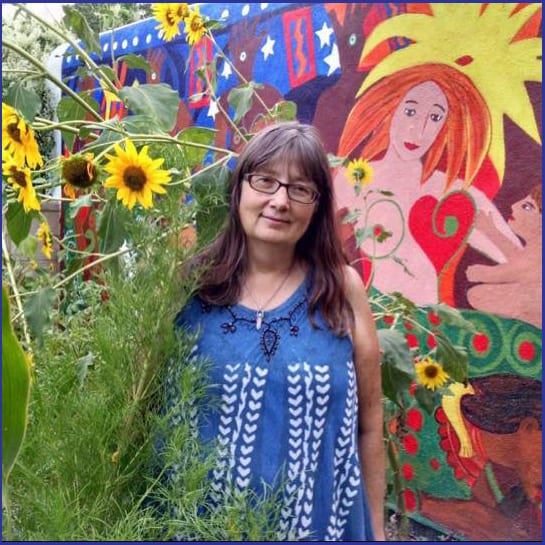 Denise Weaver Ross is an artist, poet and graphic designer who lives and works in Albuquerque, NM. Her images are richly layered with mythological, cultural, and historical references.
Denise is currently working on a  series based on the 64 hexagrams of the I Ching. She was drawn to this abstract visual system, which shares universal archetypes explored earlier in her House of Cards series (56 large scale works-on-paper from a reimagined traditional deck of cards) and in her Legendary Creatures series (26-plus paintings of creatures from myth and legend from around the world). Visually, Denise is interested in exploring the way the abstract patterns and ideas interact with representational symbols and images. In her I-Ching Series she has created 64 12x12 inch paintings, eight 30x30 inch paintings, and is in the process of  16x16 inch paintings as well as 4x4 and 5x5 inch paintings for collectors.
Designated a Local Treasure by the Albuquerque Business Arts Association in September 2018,  she is in the process of completing her third and largest mural at Tortuga Gallery in Albuquerque. As the prinicpal designer and director of a team of artists including Roe LiBretto and Joel Davis, they are creating a 24x90-foot mural celebrating the flora and fauna of Albuquerque's Bosque, the natural wooded area that lines the Rio Grande River. In September 2017, her commissioned painting for the poster for ¡Globalquerque!, Albuquerque's annual world music festival, was shown along with her Twelve String series which focuses on world music figures in playing string instruments. Earlier in 2017 she completed her second mural, a private commission, entitled We the People which depicts dancers from many cultural traditions along a 40-foot wall on Tijeras Road in the South Valley. In 2016, Denise won Best-in-Show in the Las Vegas International Juried Art Competition at Jana's RedRoom Gallery with one of the paintings from her House of Cards series.
Denise graduated from the University of Massachusetts in Amherst with a Master of Fine Arts degree. She has exhibited in galleries and museums both nationally and internationally. A prolific artist, Denise is also a poet, with poems published in many anthologies as well as in five books of her own art and poetry