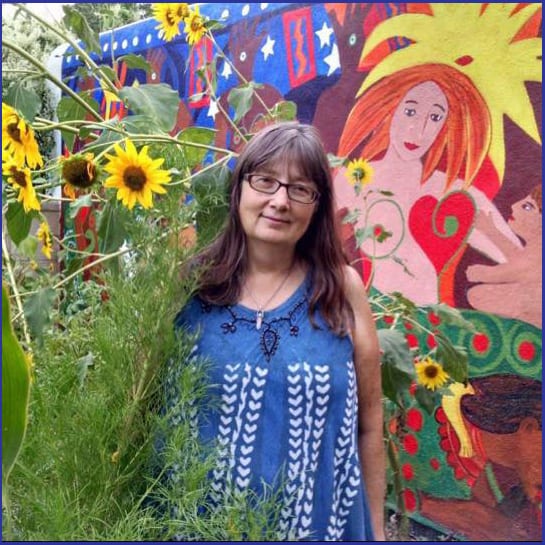 Denise Weaver Ross explores her understanding of the world through images richly layered with mythological, natural, cultural, and historical references. She feels the magic happens when disparate images combine to make a new and unexpected new image with the layers resonating with undiscovered meaning.
In her new series Postcards to America, she explores recent event in each of the fifty states in which the postcard dream of America is in direct conflict with its reality by layering idealized images from vintage postcards with images taken from current and historical events. Her series of paintings based on the 64 hexagrams of the I Ching (the 2000-year-old divination system that predates and underlies much of Chinese philosophy), she combines the traditional yin and yang lines with figurative images, symbols, and/or patterns which reflect her understanding of the particular hexagram. Similarly in the House of Cards series, she reimagines a deck of cards in 56 large scale works-on-paper in which the Heart Suit is combined with the swords from the tarot, the Club Suit becomes an exploration of trees, both natural and symbolic, Diamonds become stars and constellation, and Spades play off fossils and bones.
Denise  has lived and worked in Albuquerque since 1996. She has just completed her fourth mural at the Orpheum Community Hub building at 500 2nd Street in Albuquerque.In 2018 she was designated a Local Treasure by the Albuquerque Business Arts Association and led a team of artists including Roe LiBretto and Joel Davis in creating a 24×90-foot mural that wraps around the Tortuga Gallery in Albuquerque. The mural was part of Mural Fest 2018 and celebrates the flora and fauna of Albuquerque's Bosque, the natural wooded area that lines the Rio Grande River.
In September 2017, her commissioned painting for the poster for ¡Globalquerque!, Albuquerque's annual world music festival, was shown along with her Twelve String series which focuses on world music figures in playing string instruments. Earlier in 2017 she completed her second mural, a private commission, entitled We the People which depicts dancers from many cultural traditions along a 40-foot wall on Tapia Road in the South Valley.
In 2016, Denise won Best-in-Show in the Las Vegas International Juried Art Competition at Jana's RedRoom Gallery with one of the paintings from her House of Cards series. The series was displayed in its entirety at Tortuga Gallery in 2015. In 2015 three pieces from the series where also displayed in Times Square as part of the international SeeMe competition.
Denise graduated from the University of Massachusetts in Amherst with a Master of Fine Arts degree. She has exhibited in galleries and museums both nationally and internationally. A prolific artist, Denise is also a poet, with poems published in many anthologies as well as in five books of her own art and poetry.