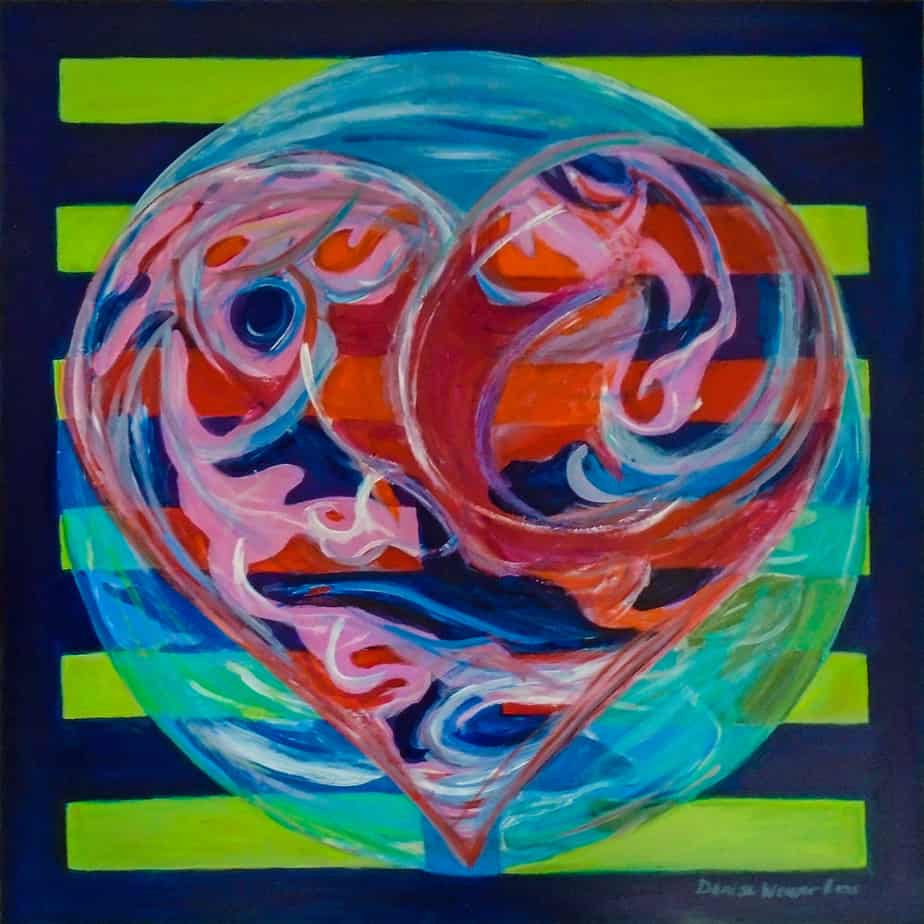 Love is a Planetary Force
Mixed media on panel
30 x 30 x 2 inches
Now showing at Ghostwolf Gallery
Thanks for the Love!
The 64 Hexagrams series have had a long debut at Tortuga Gallery and there are still a few left for sale in the coffee shop. Check them out during the events or when MUGS is open on Thursday-Sunday mornings!
Also showing at Ghostwolf: Hexagram 15: Qian (Authenticity),  and Hexagram 31: Hsien (Wooing), 12×12-inch originals.

.
GHOSTWOLF GALLERY
2043 S Plaza St NW, Albuquerque, New Mexico 87104
First Friday, Opening on February 1st
First Friday features Jeanette Cook! Jeanette draws on her background as a midwife and dancer to birth beautiful works which engage the viewer on a kinesthetic level. Her work incorporates asemic writing which, because it has no semantic content, activates primal neural pathways in the viewer, enhancing understanding beyond rational thought. Jeanette will be on hand to discuss her work and, as always, there will be an assortment of goodies to nourish your body while you stimulate your mind.
Also check out wonderful new work by Roe LiBretto (left) and Sean Paul Gallegos (right).

Introducing Metal Prints
HOUSE OF CARDS: HEART SUIT
The House of Cards series is now available as metal art prints using a process which infuses the image into a sheet of aluminum creating vibrant and durable works of art. This month at Ghostwolf Gallery, 4×6-inch metal prints are available at $45 each. Larger metal prints are also available in just about any size and for a reasonable price. Each metal print includes a built-in hanger for easy installation without expensive matting or framing.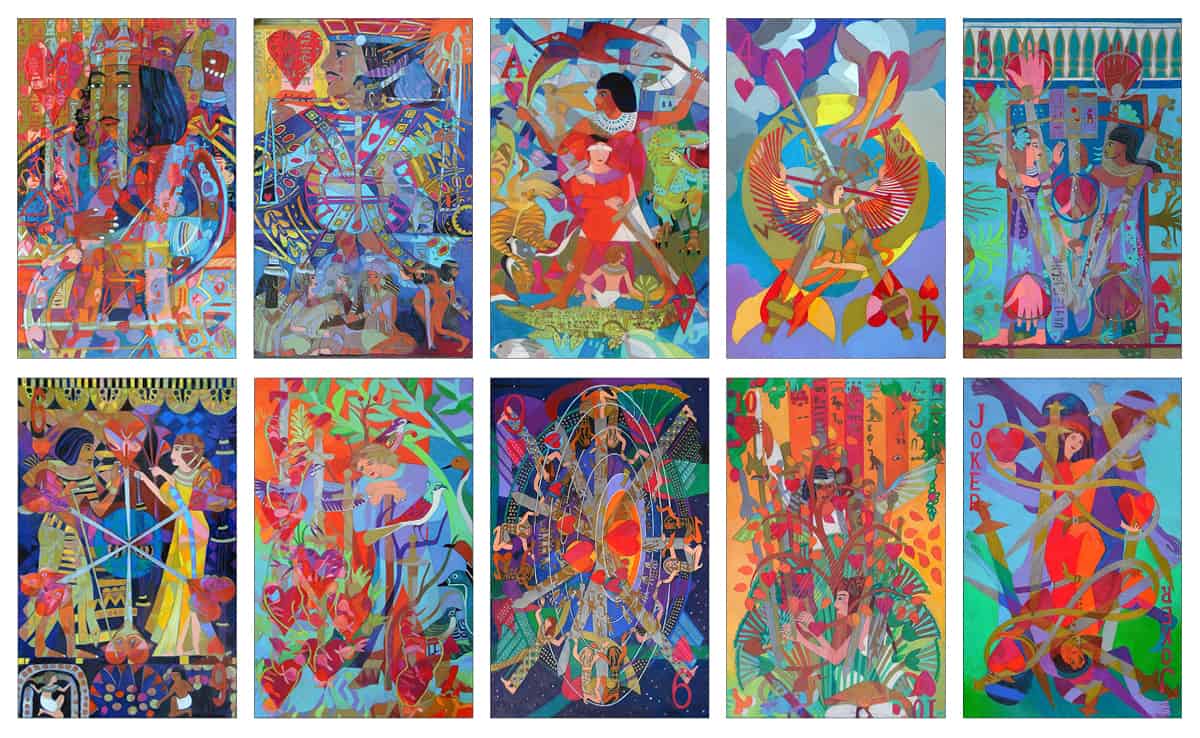 Featured Painting from the Heart Suit
Ace of My Heart, Mixed media on paper, 40 H x 26 W inches • $950 framed (or shipped unframed for the same price).
The Ace of Hearts was inspired by oldest son who has had Type I diabetes since he was five years old—as my firstborn, he is my Ace.
Card Layer – The Ace of Hearts from a traditional deck of cards.
Egyptian – Inspired by Nebamun hunting in the marshes, a fragment of a scene from the tomb-chapel of Nebamun, currently in the British Museum. This image reminded me of my son as a child. He could just take a stick and create a whole world with it. Also living with Type I insulin-dependent diabetes since he was a young child has made him into a warrior of survival.  An image of my younger son replaces Nabamun's young daughter in the original providing support to his older brother.
Prehistory Layer – This layer overlays the boat that Nebanum is balancing on in layer two with a crocodile, replaces Nebamun's wife with a T-Rex, and shows a Pterosaur flying overhead. Prehistoric creatures fascinated my son for many years while he was growing up, so it was natural to include these fantastic images. Over time I've come to see the crocodile as a symbol of life's bumpy and risk-filled ride, while the T-Rex and Pterosaur play a protective roles.
Tarot Layer – Overlaying the piece is the Tarot image of the Two of Swords, which shows a blindfolded woman with two crossed swords. I've uncrossed the swords and have one facing up and one down. In this context, the image represents the unconditional love of a mother who seeks to protect her child even though she can never see completely the dangers her child faces or his future fate.
Personal Layer – Overlaying rectangular shapes form the background are images of diabetes test strips. These strips are used to test the amount of blood sugar in a drop of blood, and are crucial to controlling blood sugar. My son needs to test his blood sugar every couple of hours while he's awake and he uses around six-eight strips a day. This reality forms the "background" of his life literally and figuratively.
Thanks for your Heart-felt support during 2018!
Mural Fest has updated their mural page with more beautiful photos.  Click HERE and check it out!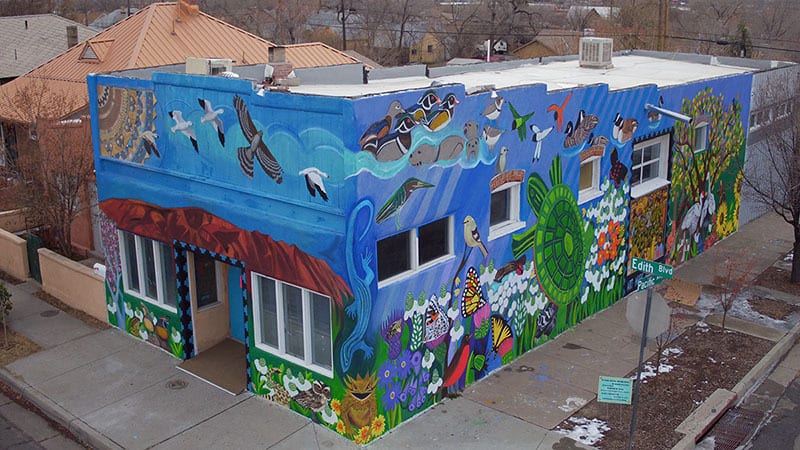 Easy-to-use navigation to art, design & poetry!