April 2022: Applause!



First, I would like to applaud all of you for your support in making these artistic adventures happen! I returned Monday after delivering 60 pieces of art from the eight Albuquerque artists chosen for VIVID: A Sampling of Today's Albuquerque Art Scene. I was delighted to attend the opening on Saturday, April 9, at the Attleboro Arts Museum located in Attleboro, Massachusetts. The show runs through May 6th.

Second, I would like to applaud the seven other artists—Amy M. Ditto, Christian Michael Gallegos, Ben Harrison, Aquilla Kappy, David S. McKee, Laura Wacha and Ilene Lena Weiss—who provided such colorful and compelling work for the show.
Third, a round of applause to Mim Brooks Fawcett, the Executive Director and Chief Curator of the Attleboro Arts Museum. She managed to surprise and delight us with her incredible vision, arrangement and graciousness in hosting the art and the artists. Her arrangement and pairings created an exhibit in which the whole was greater than the sum of its parts and yet honored and highlighted the unique artistic vision of the individual artists.

 Pictures from an Exhibition
Here are a few of my favorite photos of the show. If you live close enough to drive to Attleboro, it's worth an hour or two on the road to see what makes the Albuquerque Art scene so unique. For my friends in the area, I will be at the museum all afternoon on May 6th.

Click HERE for hours and directions — you may want to call ahead over Easter weekend to confirm their holiday hours.
VIVID: The Catalog!
We have a beautiful catalog of the VIVID show—see the cover below.
Click HERE to order a copy of the catalog for $15.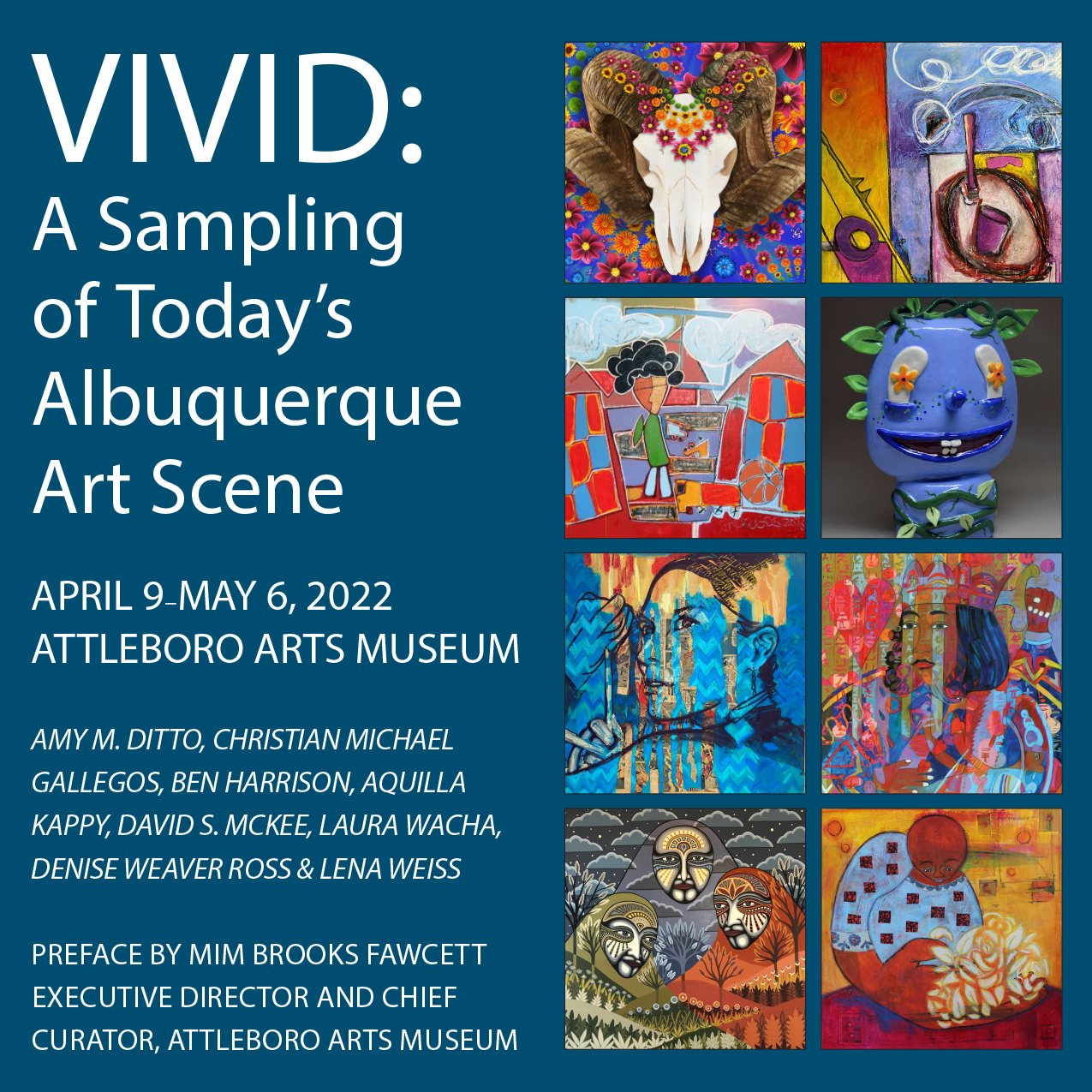 Please Support this Albuquerque-2-Attleboro Art Adventure



The cost of renting the cargo van on the return trip has gone up by $500—and of course gas and every other roadside amenity has increased since this adventure began. Click HERE to donate to the artists, anyone contributing $50 will receive a print of their choice from any of the eight Albuquerque artists. This fundraiser is to benefit the artists and is not associated with the museum.