June 2020: Finding a Way Forward

We are all trying to find a way forward through problems we can only solve together—the COVID 19 pandemic, the racism pandemic, the violence pandemic, the climate pandemic. As a mother, and especially as a mother of two young men of color, I feel overwhelmed. Making art and writing poetry is how I process these feelings.
I certainly don't have the answers, but pray we can move forward together with love, compassion, and heartfelt dialogue to healing and real and lasting transformation of our personal lives, our nation, and our planet.

Ghostwolf Gallery Opens on Saturday June 13

The first day the gallery door will be opening will be on Saturday, June 13 and I will be gallery sitting on Sunday, June 14. You are welcome to come in small numbers with your masks and see new work by the gallery artists.
My corner will be featuring the first postcard-painting in my new series Postcards to America and the large hexagram painting, What the Thunder Said.

Ferguson MO: The Broken Heart of America could be called Minneapolis today. I am doing 50 postcards, one for each state, but the problems and issues I'm struggling with in my artwork are systemic, nationwide, even global.
Hexagram 59 contains the yin and yang trigrams for the element Thunder on top and the bottom (heaven and earth) of the painting. These trigrams are are overlaid by depictions thunder gods inspired by Japanese images of Raijin, god of lightning, thunder and storms in Japanese mythology and the Shinto religion. 
The traditional I Ching readings say:

"The great image says: Repeated thunder: shocks.
The noble one through anxiousness and fear sets in order and examines."
Let's all respond to our times like the noble one.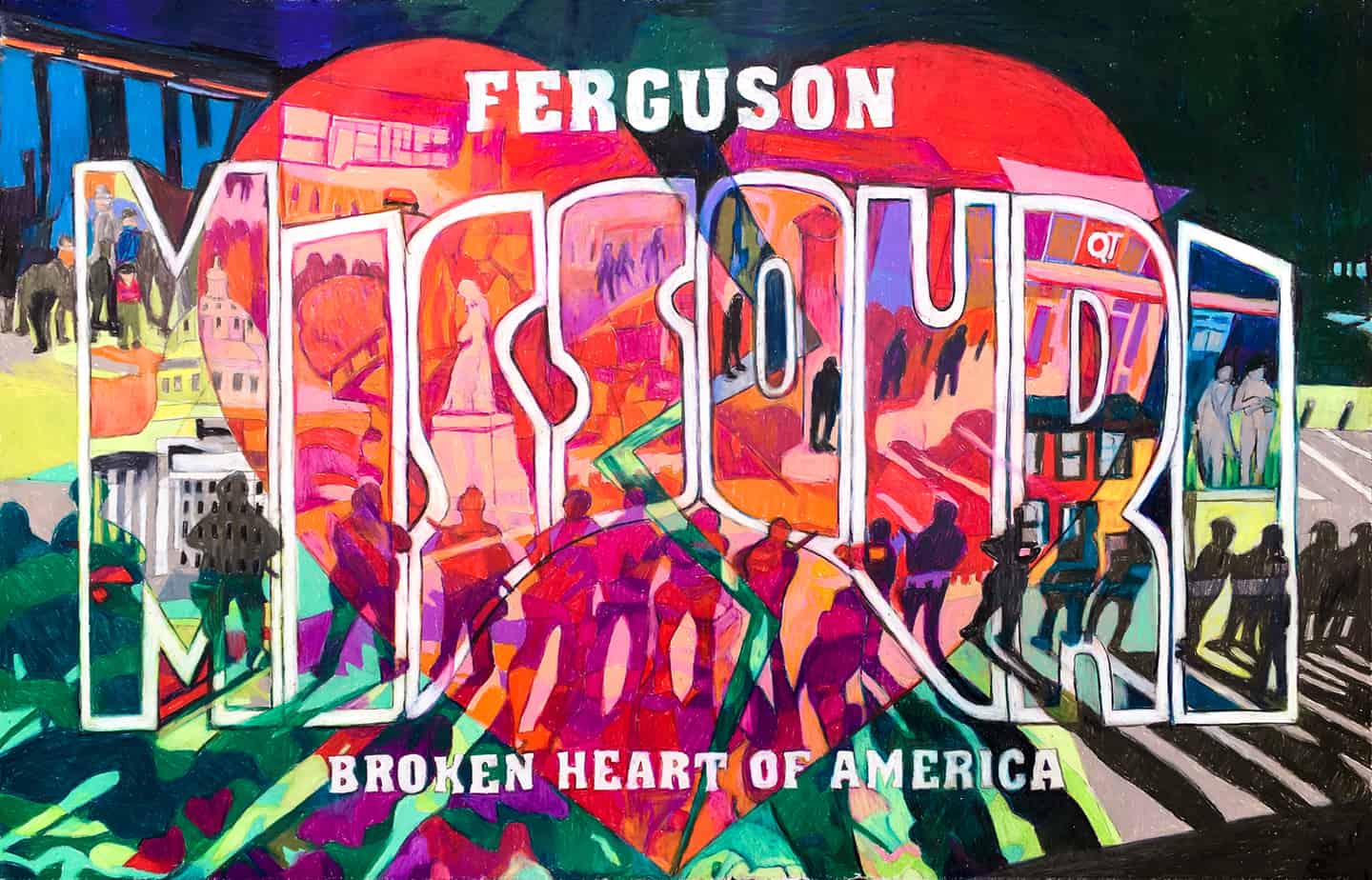 Ferguson MO: The Broken Heart of America
Mixed media on paper, 33 x 47 inches with frame 
What the Thunder Said
Mixed media on panel, 30 x 30 inches
Special Thanks!

Thanks to Kathaleen Roberts for her thoughtful article on the Postcards to America series published in the Albuquerque Journal on Sunday, May 24. Click on the link below if you haven't read the article yet.

Click on the image below to scroll through the gallery of the six completed postcard paintings.