Grief & Gratitude
August flew by me as we began the process of moving my mother and oldest son from her house into my house. Part of this process includes sorting through all the boxes and remaining belongings of my sister who passed away almost four years ago. Grief is an old companion of mine and sorting through loved-one's belongings is one of its very physical manifestations, but it brings with it gratitude for having had her as an older sister for so many years.
Meanwhile, the Albuquerque art and poetry community along with a few of Julie Brokken's close friends from Arizona and Iowa, participated in a celebration of her life during a retrospective of her artwork at Tortuga Gallery. For those of you who missed the show, a representative sample will be in the back room of the Tortuga Gallery through the end of the year. Ripples from the Center: a Little Beauty & Art, Poetry & Heart to Enlighten You on Your Way, a book of her art and poetry is available online by clicking the title link.

Then coming up this First Friday, September 3, a month-long group show and events entitled Grief and Gratitude will be held at Tortuga Gallery, 901 Edith Avenue SE, scroll down to see the listing of artists and events.
Ace of My Heart from the House of Cards series was selected to be part of this show. Ace of My Hearts was inspired by my oldest son who has type one diabetes. The background is made up of the test strips he used to use to test his blood sugar. (Now he has a little computer that attached to his body that does the work.)  He is surrounded by all the wild creatures and dinosaurs that fascinated him as a child and his younger brother helps stabilize him as he rides through life on a crocodile. In front of this tableau inspired by Egyptian tomb paintings is a modified version of the two of swords image from the Tarot. The figure in front represents me, his mother, trying to protect him in spite of being blind folded, which is how it feels to be the mother of a child with a life-threatening medical condition.

Meanwhile, Back at Ghostwolf Gallery
Coming off a Superfunkadelic show of local artists, we will be featuring the amazing Rocky Norton during September. Please stop by Ghostwolf on September 3 from 5-8pm for First Friday or any other day from 11am to 6pm.
I will be showing the King of Hearts, Six Bones Under and the Kingly Bones from the House of Cards series during the month of September.

Special Thanks to ArtSpaceEast

After running into Beth Kassay at Trader Joe's in Albuquerque, she invited me to show some of my work at ArtSpaceEast in Cedar Crest. It was so fun to reconnect with my printmaking friend from the old days at New Grounds Print Workshop and especially to show, among others, three of my latest ongoing hexagrams paintings from the I Ching series.
Postcards to America
In the beginning of May I took my first trip since the pandemic begin to some friends in Moab, Utah. This inspired my most recent artwork in the Postcard to America series, UTAH: The Beehive vs. Bear's Ears.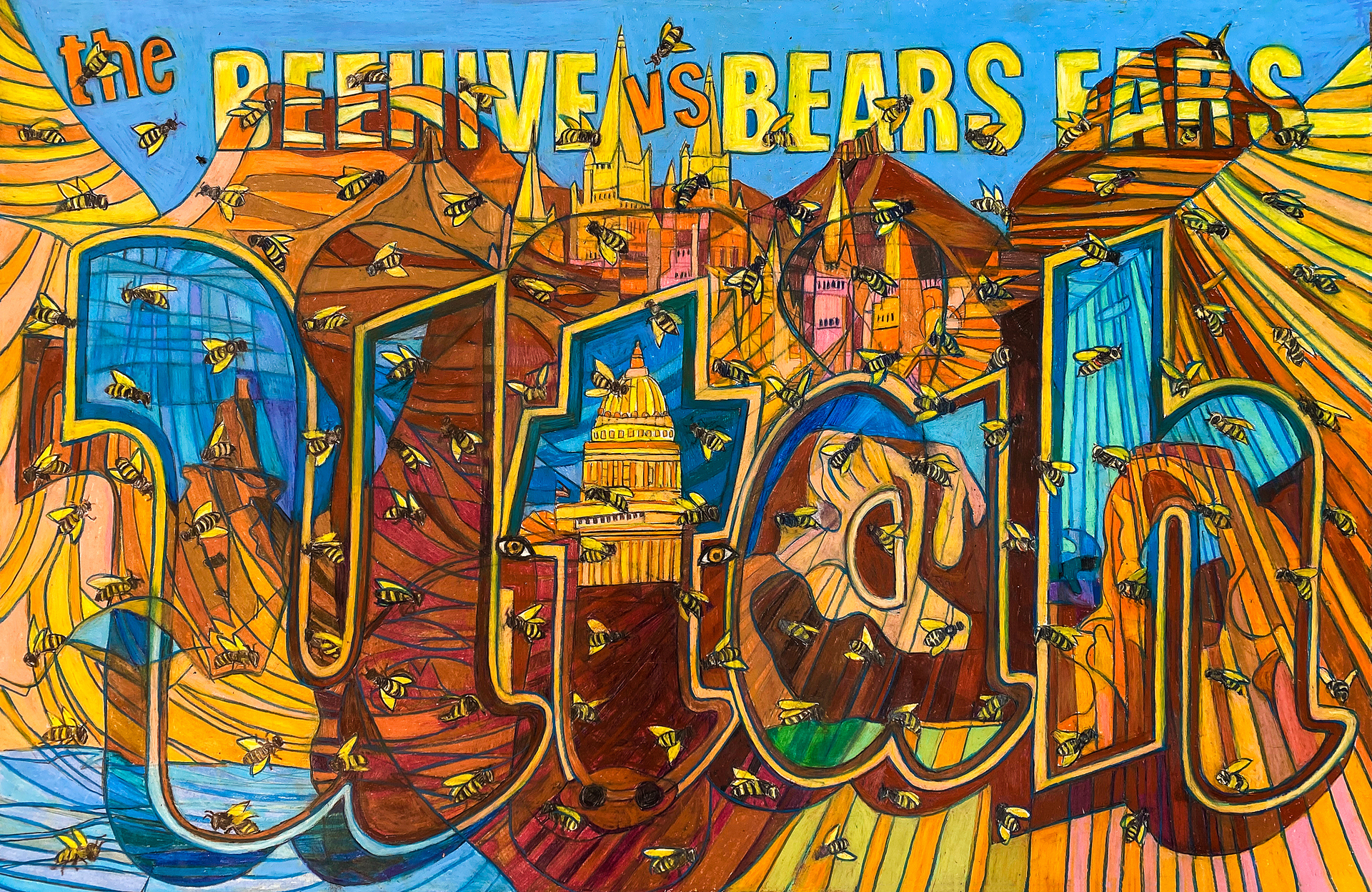 The beehive is Utah's official state emblem and symbolizes the hard-working industry of its people. In this artwork I am also using it as symbol of the swarm of tourists that seem at times to overwhelm Utah's many national parks and monuments. In 2016, President Obama created the Bears Ears National and Grand Staircase-Escalante Monuments. Bears Ears is named for a pair of tall buttes that resemble the top of a bear's head peeking over a ridge. It is the first national monument ever created at the request of a coalition of Indigenous tribes. Grand Staircase-Escalante National Monument spans across nearly one million acres of some of the most beautiful and remote land in the United States. Eleven months later, in early December of 2017, President Trump reduced the new monuments by 85 percent, an action that pleased Utah officials (the beehive) and some residents. Deb Haaland, a former New Mexican Congresswoman and the first native American to head the Interior Department, is supporting the reinstatement of the original monuments.