MARCH 2020: Women's Work

I am sitting in a hotel room just outside Baton Rouge, Louisiana, with my friend Linda, who has accompanied me on another road warrior adventure. On Sunday I am giving an artist talk at Kelwood Contemporary Art about my new series, Postcards to America, two of which are included in the Finding Your Voice In America Today exhibition. Learn more about this effort HERE.


Wench, Wife, Widow and Warrior?
Meanwhile at Ghostwolf Gallery this month, we are celebrating women artists in the fourth annual Women's Work exhibition and so I sit here contemplating my personal history as a woman. When I was in my 20s, my close group of friends, mostly male, gave me the affectionate title of "the wench" while giving each other equally irreverent names. In my 30s I became a wife (and a mother) and in my 40s, a widow. Since then I've raised my children and, yes, became a warrior in order to do so.
Today, I appreciate the women in my life more than ever—my mother, who is still going strong at nearly 90; my sister who was always a larger than life presence, challenging and cheering for me in equal measure; close friends like Linda and Roe who have accompanied me on road trips to exhibit my work in Las Vegas and Baton Rouge; Logan from Tortuga, Amy from Ghostwolf, Regina at the Cancer Center, and Jana and her RedRoom, who have all given me opportunities to exhibit my work; Charey who gave me my first mural and Roe (again) without whom I would not have been able to do the large scale complex murals during the last two years; Jules who has supported my art and poetry and given me opportunities to design book covers; and Holly and Marjorie who have commissioned illustrations.
This list is no where near complete and I am overwhelmed with gratitude for all of the women in my life.

Vicki Bolen of Little Bird de Papel
(another amazing creative woman who has been of great personal support to me and my family over the years)

is working with Andrew Fearnside to create a new mural.


Please join us at the Birds of Burque Mural Kick-off Party
on Friday, March 6, 5-8pm at 1222 Mountain Rd. NW!

I will be on hand to support Vicki's mural and have copies of the newly published guide to the Tortuga Gallery's Bosque Mural available for sale along with prints of the flora and fauna of the mural. We hope that visitors and educators will find this guide fun and informative.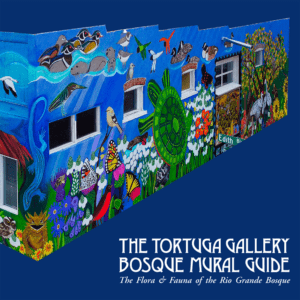 Scribes 8, an artist collective, will be on hand to talk about their bird-based mural
which will be near the Rio Grande Nature Center.
Plot Duckies will be selling books from local authors.
Sarah Jane Cole, a representative of the Central New Mexico Audubon Society
will be offering her origami silver jewelry
Janet Ruth will be joining the party and reading from her award winning book of poetry about birds!
www.redstartsandravens.com/feathered-dreams 

Cuisine de Corazon will be selling yummy cookies.
Scott Sharot will be catering free food and drinks.
Ghostwolf Gallery
 Old Town Albuquerque, 2043 South Plaza St NW




Open daily from 11am-6pm
Ghostwolf presents the fourth annual "Women's Work" exhibition celebrating Women and Creativity and Women's History month!
This consistently outstanding exhibition showcases some of the best contemporary art created by local women.
Reception: Friday March 6 from 5 to 8 pm.
Show runs through March 31st. Don't miss it!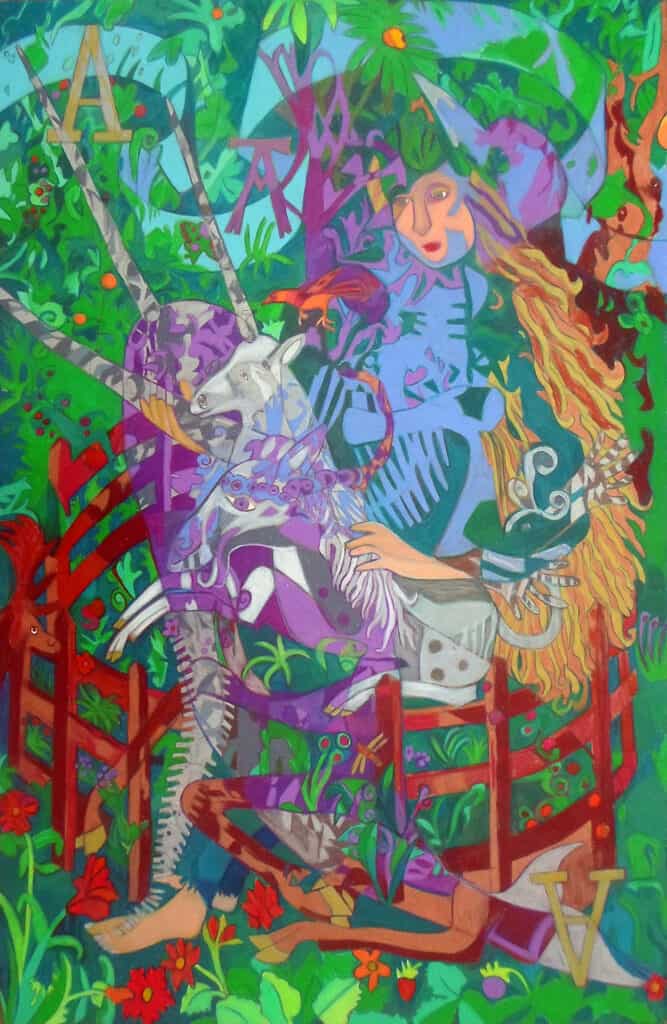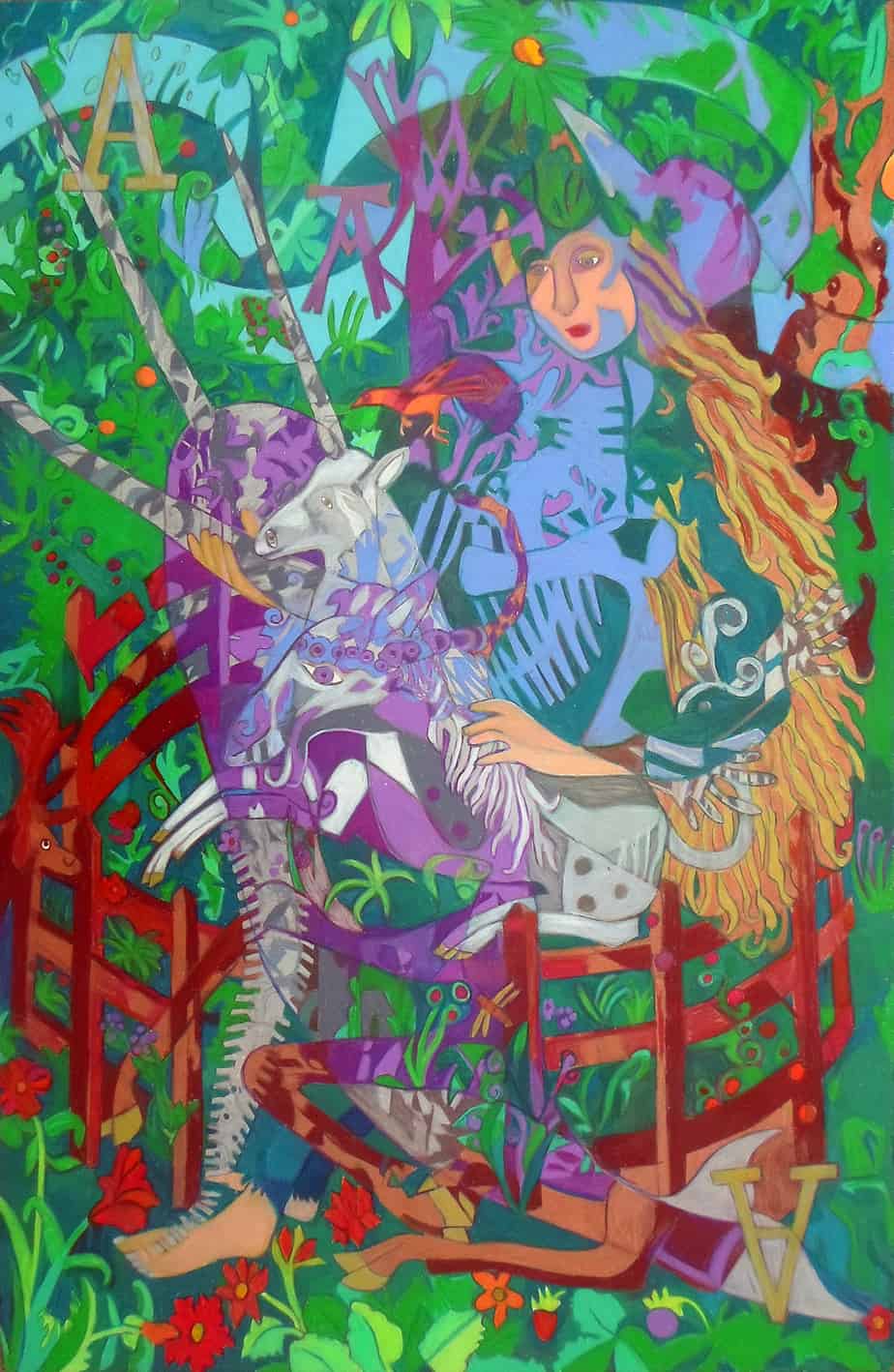 During this month's focus on women's work, I will be showing Archaeology of the Unicorn, the Ace of Bones (or Spades) from the House of Cards series.
While researching the images for this artwork, I discovered that one of the first images of a woman with an unicorn was Wild woman with unicorn, c. 1500–1510 (Basel Historical Museum), in which she is depicted as a wild child roaming the woods with tattered clothes and a brown unicorn laying his head in her lap. This image is in contrast with later depictions of a white unicorn being tamed by a pure and virginal female child. Thee wild woman vs. virgin child depictions reflects the false dichotomy that women have grown up with for millennia.

I also incorporated other versions of bones or fossils with connections to the legend of the unicorn, including the fossil Monoclonius (with one horn), which was discovered in 1876 and thought to be evidence of an actual unicorn-like creature. However, the Monoclonius is now believed to be a juvenile specimen of the Centrosaurus. Also incorporated into the image, is the narwhal who is called the "unicorn of the sea" due to its single tusk, which is found only in males. This spiraled tusk has a strong resemblance to the horn in renderings of the fictional unicorn.
Woven together these images create a visual "archaeology" of the legend of the unicorn.
New Mexico Suffragists

Speaking of amazing women, I have been using the research uncovered by Sylvia Ramos-Cruz to come up with some portraits of New Mexico suffragists. Come and hear her talk at the Special Collections Library, 423 Central Avenue NE, Albuquerque on Saturday, March 14, 10:30am until Noon.
I will be also displaying the first three portraits seen below:
Help 8 Artists Represent Albuquerque in Massachusetts!