May 2022: Wrapping Up

I'm writing this newsletter in the top floor of my late husband's mother's three-decker home, located catty-corner across the street from the the 1860-era house we renovated a lifetime ago in Brockton, Massachusetts, before we left for Albuquerque in December of 1995. Below are a few photos from my trip down memory lane.

After catching up with loved ones here, I will be heading down to Cape Cod to meet up with a couple of friends who will follow me down to the Attleboro Arts Museum to see the VIVID show before I pack it up and drive the artwork 2,200 miles back to Albuquerque.
How do you measure the success of an art show? Sales? Number of visitors? Amount of media interest? Or the impact it makes with the viewers? I don't have the numbers yet to measure sales or the number visitors, but I do know that from the media interest and word of mouth that people have really enjoyed the show and are taking an interest in what a great art community we have in Albuquerque.
Interest in VIVID



TELEVISION: Check out this great local news report on the VIVID show by clicking HERE
NEWSPAPER: HERE is the preview of the show that ran in the local paper
And below are some great photos from a family workshop sponsored by Bluestone Bank and hosted by the Attleboro Arts Museum—and since they say imitation is the greatest form of flattery—Amy M. Ditto's iconic skulls and Christian Michael Gallegos's bold arrows definitely made an impact!
Photos were taken by Museum staff and posted on social media.

If You Missed the VIVID Show…



We have a beautiful catalog of the VIVID show, click HERE to order a copy of the catalog for $15—or go to our Facebook page HERE for photos and more information about the show and the artist-run fundraiser. The fundraiser is specifically for and run by the artists and has no connection to the Museum.

Meanwhile… back in Albuquerque

During the three weeks at home between trips to Massachusetts, I was able to nearly complete the Tree of Life mural for The Next Best Thing for Being There, an eclectic shop for handmade products, located at 1315 Mountain Road NW. The mural will be completed by the end of June and Being There will have its official mural unveiling while featuring paintings from my Hexagram series.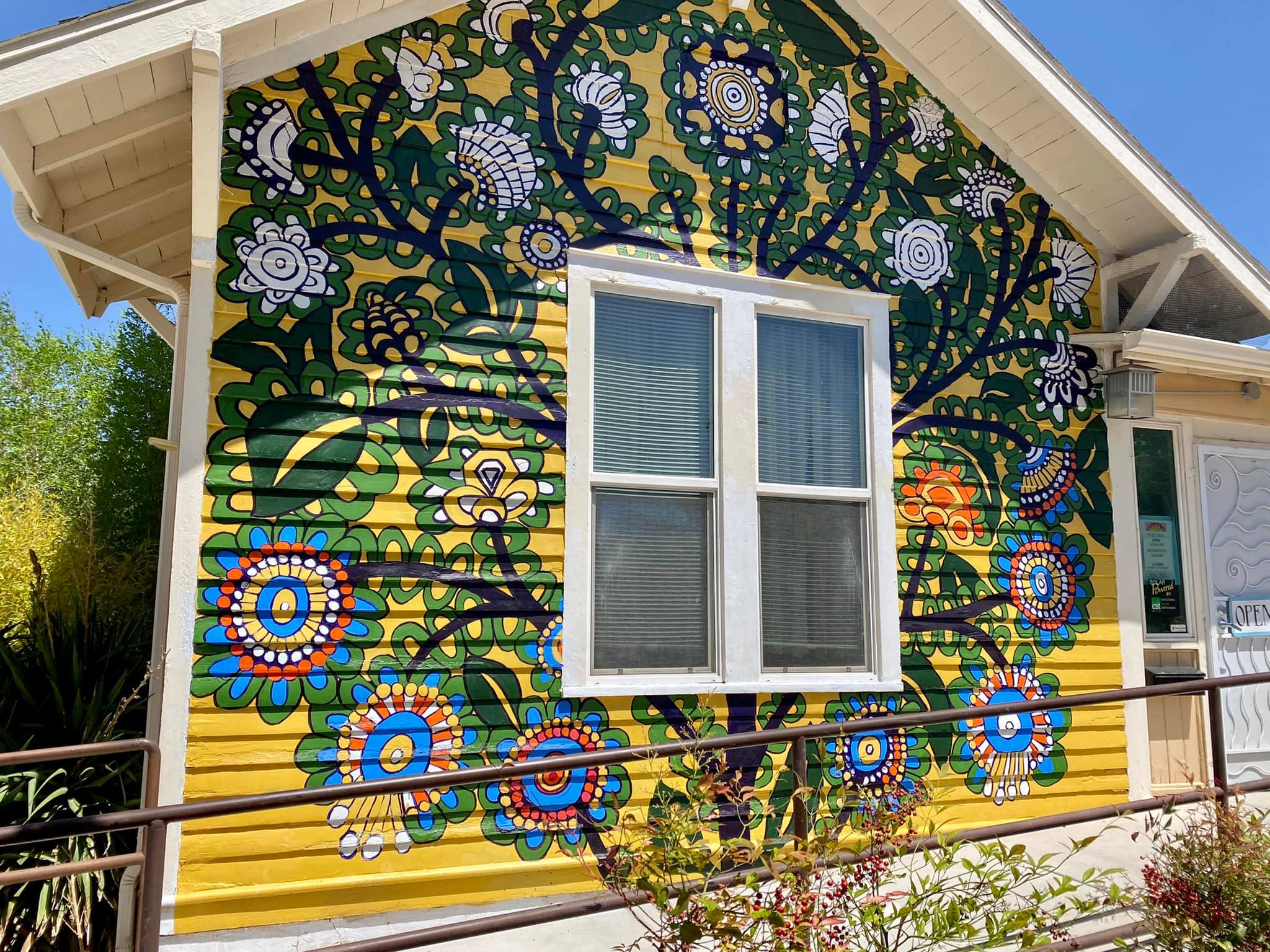 If you are in Albuquerque, don't miss the First Friday opening at Ghostwolf Gallery featuring HERSTORY—artists Julianna Kirwin, Ashley Arnold, Michelle Korte and Lena Weiss, who each chose two women throughout history who inspire them, will be displaying their prints.